Download Free Word, Excel, and PDF Blank Invoice Templates
We provide you with the best collection of blank invoice templates that could download in all formats (MS Word, MS Excel, PDF, Google Sheets, and Google Docs). You can customize the invoice templates to suit your business and express your brand identity. Here are the best blank invoice templates that are designed to avoid the over-growing late invoice payment.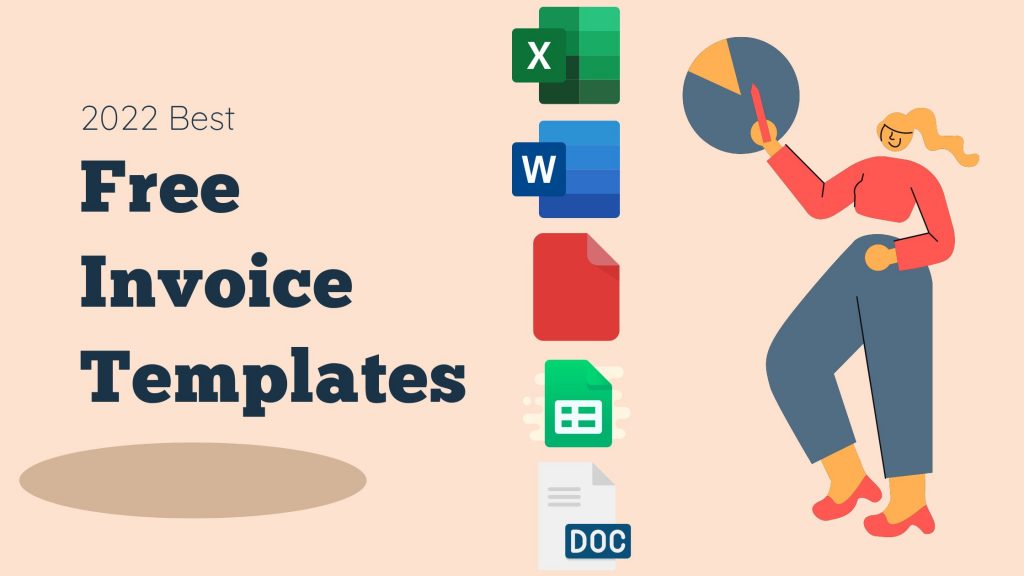 Download Free Invoice Templates With No Fees
Here are the handpicked invoice templates that will manifest your business and effectively develop your operation and workflow. These invoices are super easy and you don't have to be a technical person to deal with them. You only download the blank invoice template and you are ready to go.
These Microsoft invoice templates are uniquely designed to include all the requirements of valid invoices to get paid faster. You are not limited to a certain number of items, not a certain currency. This would make your get rid of the invoicing nightmare and make your billing statements easier. Download blank invoice templates that will deal with your taxes and deduct deposits. These invoice templates could be easily integrated with other invoice software or systems you use.
Automate Your E-Invoice With A Free Tool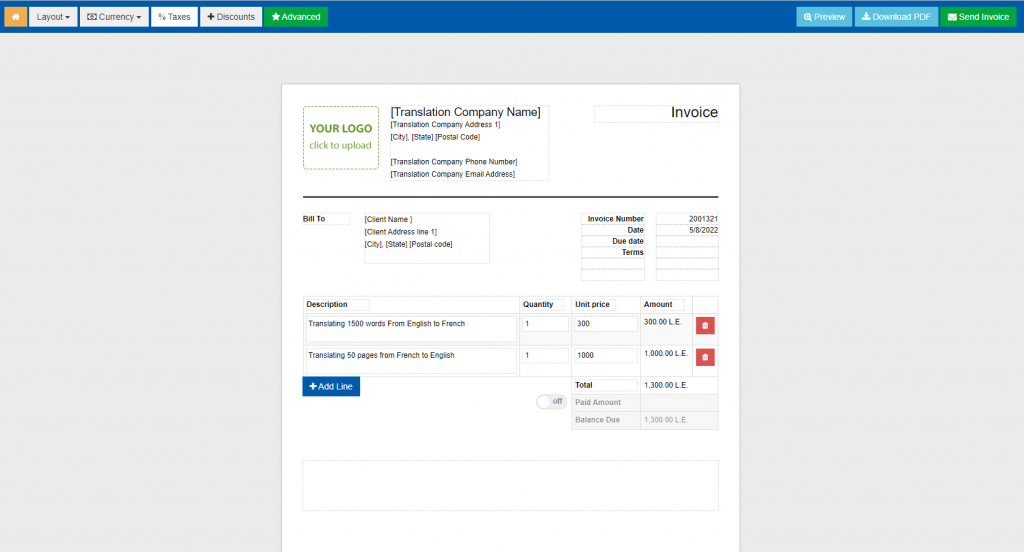 You can start creating your customized invoices with Online Invoices Free Tool. Automate all your process and recurring invoices with no effort.
Same your business information for further invoices. Add your logo, currency, payment terms, Taxes, unlimited list of items, and more. The free toll automatically calculates your payment.
Start creating your own personalized invoices using our Free Invoices Generator tool
Download Blank Invoice Template
Get a blank invoice template that will suit all types of businesses. You can input your business information, brand identity, and product details easily.
Choose the template format you need below and download it and start customizing. No need to further questions, emails, and subscriptions.
Download Pro Forma Invoice Template
A Proforma invoice is a type of invoice that refers to a document for a primary agreement. The seller sends it to the seller to agree on all the details before sending an outstanding invoice.
Download free versions of the proforma invoice template. Customize your template and present your brand identity to your clients for better brand loyalty.
Bill Book Template Free Download
Download a nice billing invoice template for all your needs. You can use them to keep accountant notes and exchanges. The template shows the date of billing, payment terms, overdue penalties, product description, and more.
The online Invoices bill book design template is super attractive and customizable. You can see how unique they are.
Download Free Construction Invoice Templates
If you are searching for a construction invoice that would provide you with an itemized bill, here you are. It is the best invoice template to invoice an individual or company to that you have previously provided a service to.
The template also supports adding several supplies, work hours, flat-rate fees, and more. Download the template now and start customizing them in the way you fit most with your needs.
Multiple Pages Invoice Template
Download multi pages invoice templates for big projects and long descriptive invoices, such as commercial invoices. The invoice contains all the necessary information needed and your can pick and choose the suitable for your business and special case.
No extra fee is required to access the template. Just choose the suitable version below and it would be directly downloaded with no further annoying steps. It is available in Google Sheet, PDF, and MS Word, as this is the best practice.
Download Free Consulting Invoice Templates
If you are a consultant who wants to invoice his clients and get paid easily. Here is the best consulting invoice template that can be customized to suit your needs. The template support all working conditions such as hourly rate, salary, ..etc as well as the option of partial and full payments.
You can download all these versions to see what works better for you. They are all free and no further requests you would be asked to do. Just download and it is over.
Download Service And Freelance Invoice Templates
Get the best invoice templates for freelancers. You can send this template to any of your clients to get paid faster for your service. Our free invoice template will make it easy for you to generate and send new invoices.
The service invoice template supports all freelancer-based work types such as hourly, and per piece. You can download and customize your invoice template in a way that shows your work identity.
If you need a further specific blank invoice template that fits your specific industry. Here are some handpicked invoice templates by industry to make your invoice much more professional:
Download Free Word (MS Word or Docs) Invoice templates:
To get your invoices paid faster, you need to follow the correct way to avoid unpaid invoices.
Download Free Excel (Xls and Xlsx) Invoice templates:
Here are the best MS Excel invoice templates to easily edit and automate your invoicing process. You can customize these templates and then send them to your clients:
Download Free Portable Document Format (PDF) Invoice templates
Here are the best PDF invoice templates that will speed up your client payments. You can write over these templates and then send them to your clients:
Invoice Templates Based on The Types of Invoices
Here are some other blank invoice templates based on the industry. They are available in all formats: MS Word and Excel, Google sheets and docs, and PDF:
If your Invoices Got No response, you should follow up with your clients to pay your outstanding invoices. If they did not respond, try these overdue invoice email templates.
How To Use These Invoice Templates
When you download the above templates, make sure that you customize them in a way that will make your client pay you faster. These templates are only a way to ease your invoicing process, but you have to do your job customizing or use invoice software to do that for you.
The first thing you need to ensure is that you have entered the correct personal or business information about you and your client. The names, addresses, and contacts must be accurate. If you use a free invoice generator, the software saves business information about you and your clients. They all manage your recurring invoices without wasting your time.
You also must descript your product or service in detail with no redundancy. Correctly introduce your items with a short title, more detailed description, items count, unit price, total price, taxes, total payment, and more. Make everything clear to avoid confusion and further invoice payment delay.
You also need to identify your binding payment terms (such as the due date and penalties), and various payment methods (such as a debit card or credit card). This part is the most important as it will lead to faster payment. Include your bank account information or a payment link if exists. The invoice must also have a unique invoice number with the proper issuing date.
You can also send a proforma invoice (draft invoice) to your client to allow him to discuss with you any misunderstanding that may hinder the payment process. After your agreement, you can send a standard invoice that will be paid faster.
Let Your Customers Pay You Faster and Easier
You can send and receive payment in all currencies and through all payment methods available whether digital or cash.
Access your account and do your tasks using any authorized devices. Get your invoices done on the go.
Receive Detailed Reports About Your Expenses And Income
Use Online Invoices free tool to automate all your invoices with the minimum effort. Schedule your payment and past-due emails without wasting your time.
Get regular reports about your income and expenses as well as your invoices and bills. Never miss an invoice unpaid.