How to Get Paid Faster & Avoid Past Due Invoices
Past due invoices are one of the most discussed issues in business accounting. When your clients delay your payment, this will lead to a shortage in your business capital. Here we will discuss the definition of past due invoices; how to urge your clients to pay the outstanding invoices. In general, it is all about how to get paid faster.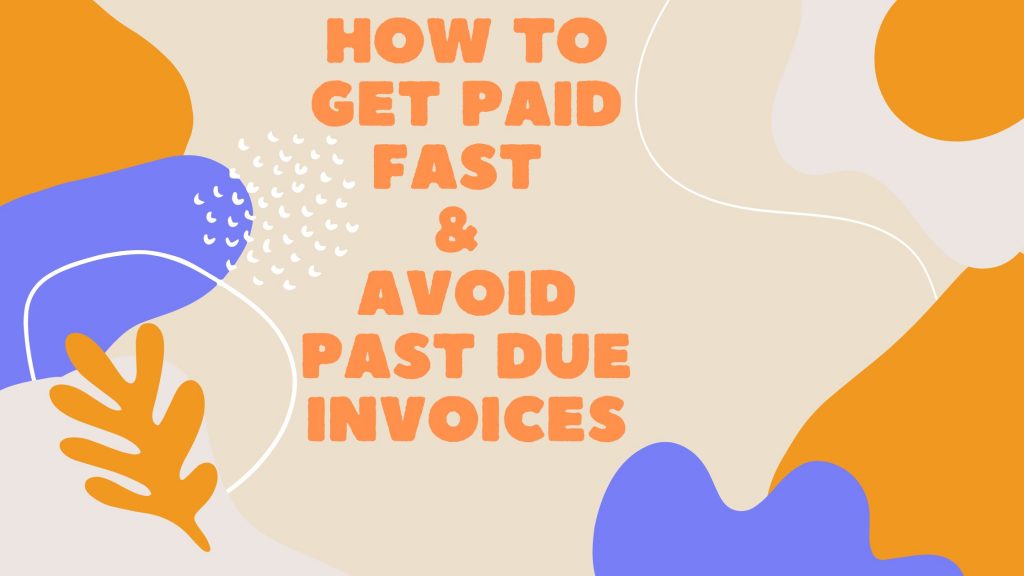 What Is The Past Due Invoice?
Past due invoices are the type of due payment that is late and the due date has passed. These late invoices are considered too risky for all small and medium-sized businesses. They could even cause the loss of thousands of dollars in businesses in addition to the extra working hours exploited in chasing them.
For example, if your issue an invoice with a last due date of the 1st of June. When this due date is passed, it is considered a past due invoice.
What Is The Difference Between The Outstanding Invoice And The Past Due Invoices
Although both terms are used interchangeably, they have different meanings. An outstanding invoice is an invoice that is still within the due date period specified in the payment terms. For example, if you issue an invoice to be paid within 30 days (between 1st – 30th of June). During this period, the invoice is called an outstanding invoice i.e before passing the due date. 
On the other hand, the past due invoices are the ones that their customers passed the due date without paying the invoice. In the example above, the invoice is considered past due on the 1st of July and beyond.
So, the invoice is outstanding until the customer pays the balance within the due date. So, the invoice becomes late only when passing the first day after the payment due date.
Statistics About Past Due Invoices
There are many statistics that describe the late payment, especially in SMEs. For example, 54% of SME businesses would receive their payment after the due date, and 33% of these late invoices are paid late for more than a month, another 20% would be late for more than 60 days, and another 11% of the late invoices would not be paid.
We have laid out two studies about statistics related to e-invoice system growth and the late invoice payment. If you are interested, you will find them so useful.
Common Reasons That Cause Customers To Be Late In Making Payments?
There are many reasons that could lead to delaying invoice payment the following are based on the reasons reported either by the customers, statistics, or vendors:
Many statistics report that most late invoices occur because of mistakes in the invoices.
The buyers sometimes will not be willing to pay for the product or service they received because of disputes over the prices or quality.
Customers are waiting for payment from their own customers.
Some customers are willing to pay, but they waiting for payment authorization.
Vendors may issue the invoice for a random employee and the business owner or the representatives are not aware of the payment.
Many customers forget to pay some of their invoices by mistake.
A specific payment method that the buyer finds it hard to go with.
But What can you do in order to avoid late payment? Here are tactics and tips that you can use to avoid past due invoices:
How to Get Paid Fast & Avoid Past Due Invoices
To ensure that your invoice would not get stuck in your past due invoices list, you need to ensure that you fulfill the following conditions to avoid turning outstanding invoices into past due invoices:
Use Invoicing Software
When you rely on invoicing software, you would avoid making mistakes (as there are invoice templates according to your industry). They would also save your payment terms, deal with the recurring invoices, follow up with your outstanding invoices, and more.
Use onlineinvoices.com to streamline your payment process. We offer customized accounting and invoicing solutions for your business.
Send your invoice to the right representative
When you issue your invoices, ensure that you send them to the customer directly or the right representative. For example, when you invoice a business, send the invoice to the one who is entitled to deal with the invoice i.e. company's accounting department.
Send the invoice as soon as possible
Many studies reported that the faster your will issue and send your invoice, the earlier you will be paid. This is because the customer is still remembering the product or service, and he would not say "in both cases I am late".
Send proforma invoice
To avoid any further dispute, you can issue a proforma invoice to your customer (which is a draft of the final invoice). Any discussion would take place before sending the final invoice after the customer is fully satisfied with the service and the prices.
Early birds discount
You can specify a discount in the payment terms for those who pay early. For example, 5% discount when you buy the outstanding invoice within the first 6 days.
Write Valid Invoices with Payment Terms
If you want to get paid fast, you need to ensure that you added all the required invoice payment terms with a specific due date. Discuss these terms with the customer in your proforma invoice before issuing the final outstanding invoice. Try to make a reasonable due date, as short due dates are not always better.
Offer various payment methods
If you offer your customers various payment methods, you would make it easy for your customers to pay you. They could prefer cash, PayPal, credit card, or any digital or traditional method. When you offer many options, it is more probable you will get paid faster.
Charge a late penalty
It is okay to inform your customer that you charge a late penalty for late invoice payment. This would motivate your customers to pay as fast as possible, and take it seriously. This should also be discussed with your client in your proforma invoice or before issuing the final invoice.
Send Reminders
You need to send email reminders for payment before the end of your invoice due date. This would increase the probability of getting paid faster.
Automate You Invoicing Process
One of the key reasons that could help you avoid past due invoices is using invoicing software. Online Invoices Software will help you automate your invoicing process and send a high-value invoice that would get paid faster.
You can also handle all the accounting tasks and track your past-due invoices. I will also automate your overdue chasing process.