Translation Service Invoice Templates | Word, Excel, Docs, & Sheet
An invoice template for translation services is a key goal of your translation career. Each translator wants to get paid. But you need to learn how to invoice for translation services. And what should be included in the translation invoice?
You also need to choose the right translation invoice template that will get you paid fast. In this article, you will learn all of these tips with free hand-picked sample invoices for translation services to download and customize.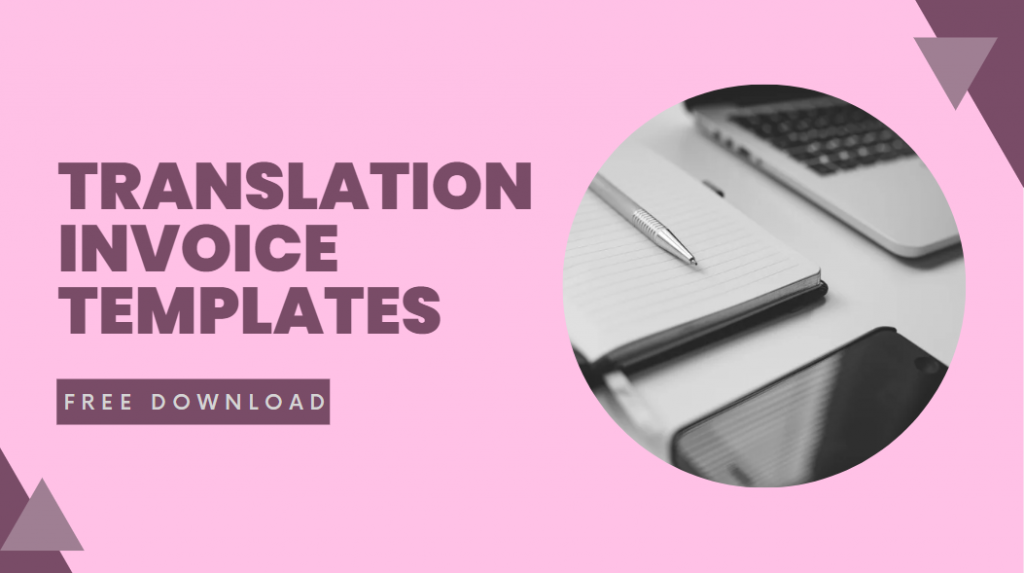 What Is An Invoice For Translation Services?
A translation invoice refers to the document that a translation service provider sends to his client to pay for the service. It simply lists the services you provide and what the client will pay for. The invoice also includes the payment terms and methods you agreed on. The invoice could be charged per-word basis and/or per-page basis.
Why Is It Important To Use Translation Invoices?
If you are a professional translator or a freelance translator. You must use this kind of translation online invoice for a variety of benefits.
More Professional and Well-Organized
When you offer your client a translation service invoice, it seems more professional. You are now a trusted agent that he would prefer to work with again. It sits you above the competition.
No Missing Payment
When you decide to make an invoice for translation services, your clients would not miss the payment. So, they also would not be confused about the unit cost and the total cost, not the way they would pay. On the other hand, your clients would rather find everything specified and clear in the translation invoice, as will be mentioned below.
Time-Saving Translation Invoice
Instead of a log chat that will be lost. You don't need to formulate ways of expressing or designing the sheet to send your bill. You will only fill out the translation invoice template after you download it. Each time you need to invoice, you just fill out the fields required and you are ready to go.
Should a Freelancer Translator Issue An Invoice?
If you are a professional freelance translator who provides translation services:
English translation service.
Arabic translation services.
Spanish translation service.
French translation service.
Or any other language translation services.
You should use a translation invoice template to get paid faster. Most global population understand the English invoice and you will have no problem with that.
What are the industries that require translation invoices?
There are many industries that ask their service providers to issue translation invoices. For example, if you offer business translation services, you are most likely to require a translation service invoice. There are many other industries that necessitate translation invoices.
What should you Include in a Translation Invoice To Get Paid Faster?
There are some standards that you should follow in your translation invoice to receive your payment faster. Here are the basic requirements for a translation service invoice:
Details of your Invoice:
You need to include all the translation invoice info. Such as:
The unique invoice number.
A heading telling your client that it is an invoice.
The issuing date of the translation invoice.
The Translator Info:
Your translation invoice needs to carry detailed info about you "as a translator" and the service you provide. Such as:
Translator name;
Translator's company name and logo (if any);
The identification number of the business (if any);
Local address and contact info;
Footered by an official signature.
Client's Basic Information:
Your translation invoice template should include the basic information about your client. Such as his name, local address, and contact number.
Details Of Your Translation Service:
You should include the details of your translation service with a short description. Such as the file name, source language, target language, the word/page count, and the cost per page or per word. In the end, you refer to the total cost and if any discount you made.
You can add special working types, such as the quote, hourly, number of words, or page. You can add in a statement or in a column.
Translation Invoice Payment Terms:
For your translation invoice to get paid fast, you should include the payment terms you agreed on with the clients. These payment terms would refer to the payment the accepted payment methods, currency, due date, late penalty, and more.
You can also add your privacy policy and the refund policy. Yo just pick the important terms you see relevant to your translation project. It is important and includes them in your translation invoice template.
Personal Touches
You should make your invoice sound as personal and kind as possible. Try to complement statements and warm thanks for the work experience you had. When your phrase your payment terms, try to put the words as gentle as possible.
Your translation invoice template could market for your service if spelled properly.
Best Translation Invoicing Software
There is much software that could do the job for you without bothering you with translation service invoice templates. I recommend using enerpize software. It is cloud-based and very user-friendly.
Free Invoice Template For Translation Service to Download in All Formates
If you are a freelance translator who needs translation invoice templates as a fast solution for your billing problem. Here is a useful cloud-based translation invoice template: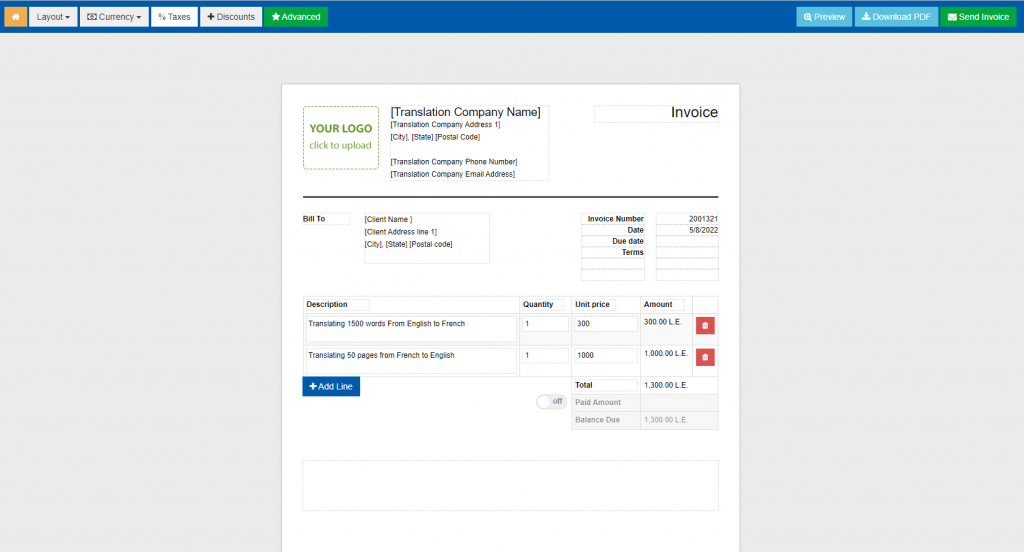 Here we gathered the most useful invoice template for translation services. They are available in Microsoft Word, Excel, PDF, Google Docs, and Google Sheets.
Pick the preferred invoice template:
Pick the preferred invoice template:
Note: You need to make a copy of the translation invoice in the Google Sheets and Docs in your google drive account to start using the template. For the other formats, you just need to download and enjoy editing.