E-Invoice System | 2022 Statistics Of Global Market Size
The global e-invoice market size is growing so rapidly that no one would imagine. Alothgou this rapid growth, SME owners worry about applying a fully automated e-invoice system and accounting system.
We will go through all the statistics about the current status and future predictions of the global market size of electronic invoices. How would an e-invoices system help SMEs to develop their business? How would the traditional invoicing systems negatively impact their business?
Note: While we focus on small and medium-sized businesses, it does not mean that they are few. SMEs are 99% of all businesses in the US and Europe, and potentially the whole world.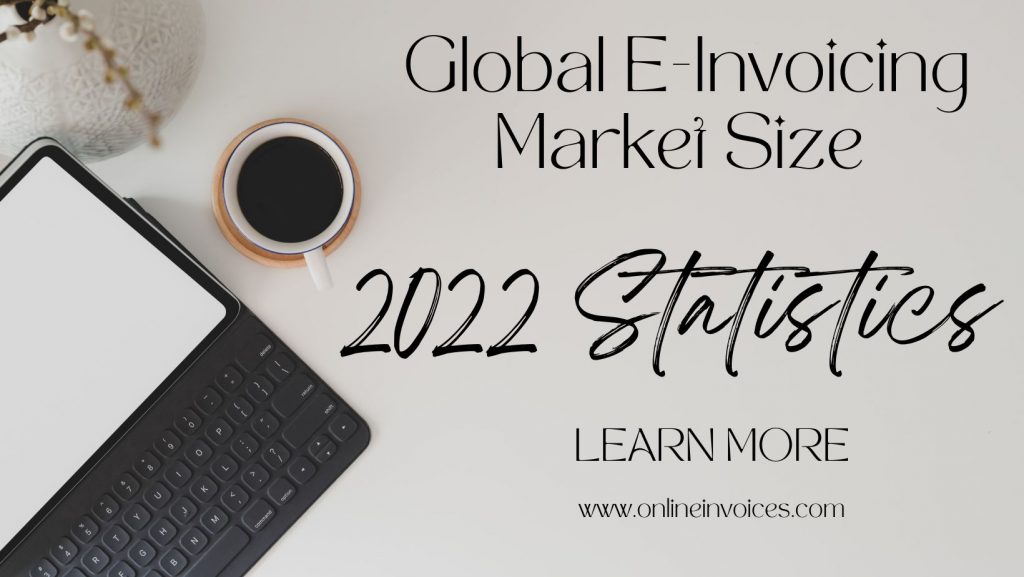 E-Invoice Market Size And Growth Rate:
There are a number of statistics that measure and predict the global e-invoice market size for SMEs:
The percentage of online invoices' market share is 20.4% and it is expected to reach a growth of 80% in 2027, especially in countries such as "China, Saudi Arabia, Australia, and the US".
The market for electronic invoices is estimated to surpass $25 million by 2027. This is because many studies expect the value of digital transactions to reach or even exceed $6.7 trillion by 2023.
Unfortunately, it is reported the FRB of Minneapolis has estimated the percentage of e-invoices is only 25% of all the 25 billion invoices issued in one year in the US.
More than 70% of companies are still using paper invoices and have not yet replaced their traditional methodologies.
On the other hand, 64% are willing to utilize electronic invoices in the future.
Statistics of Benchmarking Metrics show that more than 77% of all accounts payable departments are now involving some kind of automation.
But only 9% of all AP departments use a fully automated process "end-to-end". But 64% of these businesses are increasing the volume of their e-invoicing system.
In a local experiment in Estonia, 65% of business owners agree that their current electronic invoices system covers their daily invoicing operational activities. But 24% of participants have not yet made up their minds, and 7% disagree.
Summary of the market size of the E-invoice system:
In light of the above statistics, we can easily conclude that companies are tending to utilize e-invoices systems as they contribute to reducing the total cost. This would raise the e-invoice market size. In addition, automated systems improve business efficiency and KPIs when implemented correctly.
When companies recognize the potential benefits of utilizing the automated system in their account payable departments. It would become easier to convince them with more adoption of other automated processes.
What these businesses may not realize is the actual value of automation best practices in their favor, especially when considering things like efficiency gains, cost savings, and rebates from virtual card payments.
Why are some SMEs worried about using an E-invoice system?
There are many reasons why some SMEs are still worrying about depending on fully automated e-invoice systems. Some studies share their concerns:
It is reported that 51% of SMEs who have not yet applied an e-invoicing system argue that their supplier may not accept their e-invoices.
Another 31% of them their team qualification and capacity to enroll and onboard vendors.
The other 22% say that they are worried about fraud risks.
In another survey, findings show that 32% of SME participants – who don't use e-invoices – stated that they are happy with their current working way.
While 18% of participants made excuses due to a lack of budget.
The other 16% of SMEs asked for a business case or ROI of applying these automated systems.
A summary of SMEs' worries about e-invoice systems:
Suppliers would not accept or cope with their automated system.
Lake of team qualification.
Worried about fraud risks.
They adopted one fully tested methodology, no more trying.
Lack of budget.
No case study of business's ROI after applying fully automated systems.
Although their concerns are still valid, they should approach the gradual adoption of AP automation platforms, and then they could test the results. tests. They would find that there is no elephant in the room.
Could E-invoices systems reduce the total operation cost of SMEs?
It is reported by the US Treasury that if the government's premises alone started to use a fully automated invoicing system. The relevant cost would be reduced by 50% leading to hundreds of millions of dollars reduction.
Benefits of E-Invoice System VS Negative Impact Of Manual Invoicing System
There are many benefits of using an e-invoice system in your organization or business. There are also many negative impacts and harms when you apply the traditional paper-based accounting and invoicing system.
These positive and negative impacts are reported in many studies and surveys with some measurable data:
When you rely on traditional invoicing.
When you apply an E-invoice system.
It is reported in many studies that if your company includes a range of 250 employees, you are expected to hire at least one employee dedicated to the payroll only.
The same is not true for the electronic invoice system. The payroll is rather done automatically with no effort or a dedicated employee.
On average, an employee spends one-hour manually processing only 5 paper invoices.
The time spent to process one invoice would be 77% faster when using E-invoicing.
The cost of annual invoices would be about $4 for each invoice. It is also reported that some invoices would cost companies $15 and $30 for each.
The automated invoice processing would reduce the payment cycle and cost by 81% for any company.
It is estimated that the manual management of monthly payroll would cost companies about $60-70 a year per employee.
However, the same process would cost $160 a year per employee if done on weekly basis.
On the contrary, the total annual cost of a fully automated process is $2.25 per employee.
An average company would save at least one working hour per day.
Each error resulting from paper invoices would usually cost $54 (per error). It is also reported that 12.5% of manual invoices require some type of reworking.
There is no room for errors, everything is automated and finely tuned to serve your business.
It increases the late invoice payment rate according to many 2022 statistics.
It decreases the late invoice payment rate.
Online Invoices | Best E-Invoice System For SMEs
Online invoices software provides you with a unique experience. Using automated online invoicing tools can improve your AP department operation progress by a range of 60% – to 75%.
Although you can find many invoicing tools that could automate your invoice system, we offer a unique system that would speed up your work.
We offer you an industry-tailored invoicing and accounting system that will enable you to handle recurring invoices. The software also allows you to do the following:
Calculate taxes.
Manage your sales
Track your payment
Issue invoices
Design and export accurate real-time reports
Do all business accounting tasks
Following up with your client.
We also offer you a free service-based invoice template and generator that will suit all your new and recurring invoices.
References
Here are some of the resources we depended on to compile the mentioned statistics and surveys:
Atradius, Share Space, Industry Week, Zycus, Document Imaging Report, Medius, Vanguard, Credit Research Foundation, Credit Today, Clover, Core Integrator, Vanguard, Federal Reserve Bank of Philadelphia, Share Space, CFO, Dartmouth College's Tuck School of Business, Statista, State of ePayables, Worldpay Global Payments Report, CPO Uprising, Payables Friction Index, Thomson Reuters, and many more.