2022 Best HR Software For Small & Medium Businesses
Human resources management handles a lot of work in any business. So, introducing technology to the HR management software for your small businesses would be much helpful. It would make it easier to monitor, navigate and approach responsibilities. This is exactly what HR management software does. Based on the discussion provided, you can choose the right HR for your business.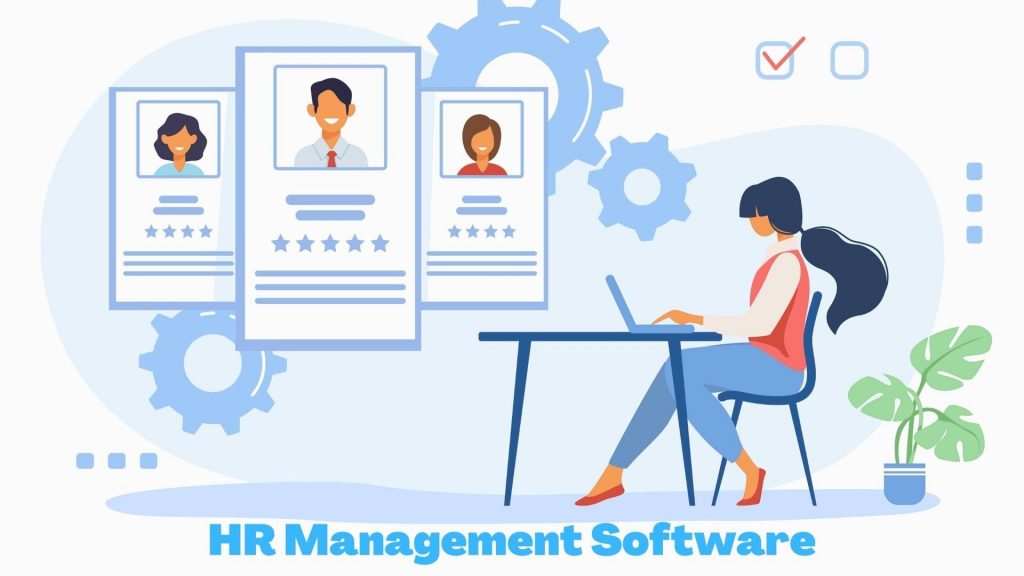 What Is HR Management Software For Small Businesses?
The HR management software or the HR management system provides multiple digital HR software solutions. They are combined to monitor every and each HR responsibility. Human resource software is designed to achieve your business goals. It helps you increase efficiency and productivity with no workflow bottlenecks.
HR software automates your business workflow for both your employees and your HR department. It makes an end to the paper-based documentation. It handles tasks from the recruitment process, employee onboarding, and the proceeding HR responsibilities.
HR management software also monitors time tracking, employee management, time-off requests, and HR file cabinets. It also handles and automates payroll management, benefits management, employee performance management, capital management, and more. It also helps you to create data-driven reports.
Note: HR Management software may also be referred to as HR management systems or HR Information systems. Although each term may sound different, they were different decades ago before integration.
Now, all of these terms refer to HR software that integrates all the above features into one software.
What Does HR Software Do?
We mentioned many features that modern HR management software for small businesses serves. But here is a detailed list of the features that many HR software can provide:
Cloud-based HR Software For Small Business
Modern HR Software provides a cloud-based service that enables you to access the data from anywhere. The cloud-based HR software for small businesses allows authorized users can monitor their tasks using any device connected to the internet.
Onboarding & Hiring Process
HR management software can help you monitor and track your a-z hiring process. HR application software handles job postings to multiple platforms, stores the data, and examines the applicants' resumes. It also tracks the applicants through their hiring process and stores all the data about your employees.
The software handles the onboarding process. Starting from the electronic signature and all the other tasks required to fit the new employee in your organization.
HR Performance Management Software
The HR management software provides you with a great benefit in managing the performance of your business and the workforce. The software tracks the improvement of your employees' skills and their performance to achieve the business goals.
The HR information software tracks their attendance, overtime, vacations, and sick days. It also schedules the employees' work and monitors the hour-based employees.
Benefits Management
HR management software for small businesses manages the benefits that your employees enjoy. Such as the medical and social insurance benefits. It also manages different types of compensation and bonuses.
The HR management software monitors your employee's payroll based on their performance and attendance. It also handles the retirement accounts and any other paid time off.
How Much Does HR Software Cost?
HR software cost usually costs around $4 – $16 per employee monthly. It depends on the plan you prefer, the integration required, and the software you choose.
What Is The Best HR Software For Small Businesses?
There are several hr software for small businesses that are really helpful to manage your human resources department. Here are the Top 10#:
WorkforceHub

Workforcehub is one of the brilliant HR software solutions that is designed for SMBs (HR software for medium businesses). The unique features of WorkforceHub are:
WorkforceHub HR software supports all the features listed above.
It provides a unique proposition for "Time and Labor" which is a mission-critical process for all businesses.
It can be integrated with the most popular payroll systems.
The software integrates with dozens of other types of business tools and services which allows you to automate additional workforce processes.

It is

user-friendly

and can help you reduce workforce management complexity.
WorkforceHub Pricing:
The software provides two basic pricing plans:
The Essential monthly plan: 4$ per employee.
The Plus monthly plan: 7$ per employee.
2. Enerpize
Enerpize is a new all-in-one management software and one of the best hr software for small businesses. It provides management solutions for business management aspects (HR, CRM, accounting, sales, operation, and inventory). One of the solutions it presents is an HR software solution.
The unique features of Enerpize are:
The software is tailored based on the industry and could be customized to suit your business needs.
It is a small business HR software and HR software for medium businesses.
Combines many management systems and you don't need to integrate it with other management software.
It can be considered an HR and payroll software.
Highly secured software that hosted on 256-bit SSL encryption and multiple levels of protection.
Enerpize Pricing
Enerpize offers pricing plans for the whole system that contains 6 integrated software (not only HR software):
Basic plan: $9.99 per month ($120 per year).
Advanced plan: $29.95 per month ($359 per year).
Premium plan: $49.95 per month ($599 per year).
3. Monday

Monday offers several management systems for a variety of business departments. One of the software systems provided is HR Software.
The unique features of Monday are:
Offers free subscription for businesses of 1-2 employees.
It provides most of the features mentioned above.
It can be integrated with Gmail and other 40+ software.
Provides multiple management software that could help you effectively manage your business.
Monday Pricing
Individual plan: Free up to 2 team members.
Basic Plan: $8 for each employee monthly.
Standard Plan: $10 for each employee monthly.
Pro Plan: $16 for each employee monthly.
4. Sapling

Sapling is dedicated software for HR management. It is considered an all-in-one HR software to manage your team easily.
The unique features of Stapling:
The software can be integrated with your business's international HR, IT, and Finance software and systems.
It includes most of the tools that are needed for team communication, accounting, planning, and more.
Stapling Pricing:
Onboarding: $4.92 for each user/month (automated spreadsheets).
People Ops Platform: $6.99 for each user/month (Human capital management added feature).
Custom: It depends on your needs (suitable for enterprise companies).
5. PeopleStreme (later Ascender HCM):

PeopleStream (later became Ascender HCM) offers an HCM technology dedicated to being an end-to-end HR solution.
Unique features provided by PeopleStream:
The software providers offer regional coverage. The coverage could easily be integrated with other local delivery and account management.
End-to-end HR management technology.
PeopleStream Pricing:
Ascender provides a free trial but has not yet announced its pricing details publicly.
6. Eddy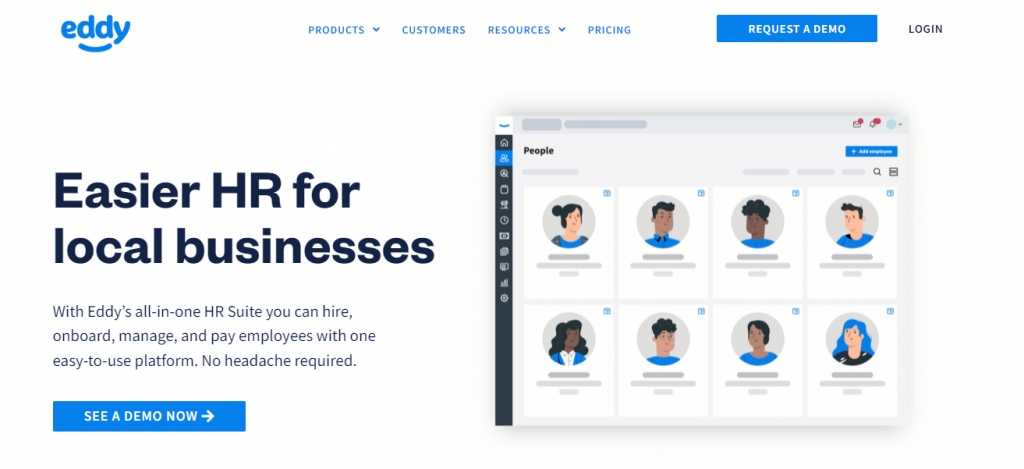 Eddy is an all-in-one HR management software that is easy to use. It handles hiring, onboarding, payroll, and more HR tasks.
Unique values provided by Eddy:
All-in-one HR software that covers almost all the features mentioned above.
Offers a user-friendly interface for users.
It offers good customer service.
Eddy Pricing:
Eddy provides one basic plan starting at $8 per employee/month. In addition, $49 base fee per month.
7. Namely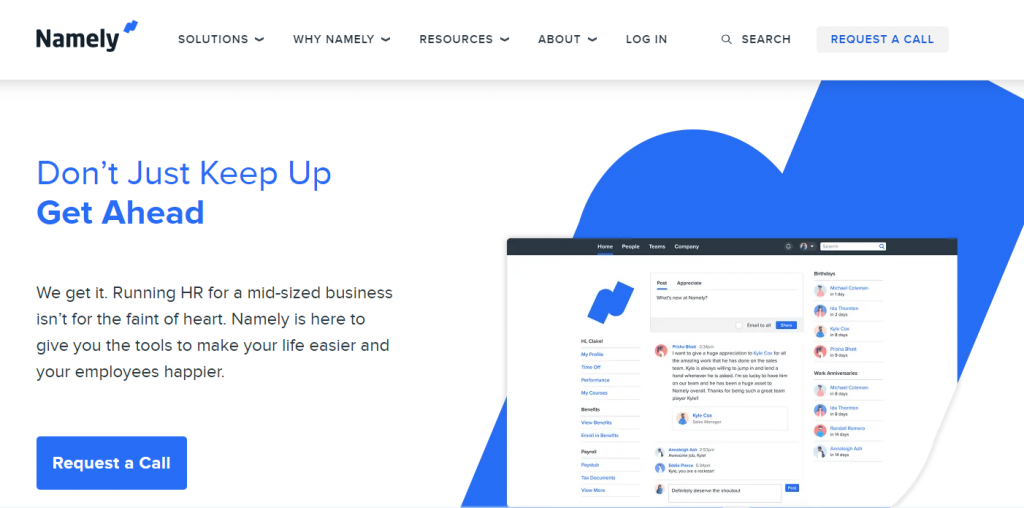 Namely is a human resource software that offers management solutions suitable to excellent as an HR information system.
Unique features provided by Namely:
It improves employee engagement as they can access all the HR info related to them.
The software comes with a user-friendly and self-service interface.
All-in-one Hr Software that handles all Hr tasks.
Namely Pricing:
Namely is a quote-based service that does not provide clear-cut pricing details about its service. They rather say that each plan is decided according to the needs of each individual business. So, You need to request a call or a demo to get informed.
Some external sources stated that Namely's basic pricing plan starts with $12 per employee/month.
Final Thoughts
Hr software for small businesses is essential to any modern business that wants to automate its HR tasks. There are several HR management systems available. You need to compare their pricing and offers to decide the suitable software for your needs.